Welcome to Siena Animal Hospital Reception
As you enter into our spacious lobby, we hope you are greeted with a smile and friendly 'Hello.' Please feel free to help yourself to a bottle of water or cup of tea or coffee as the Client Service Representative checks your pet in. Do not hesitate to ask questions; we are more than happy to answer them.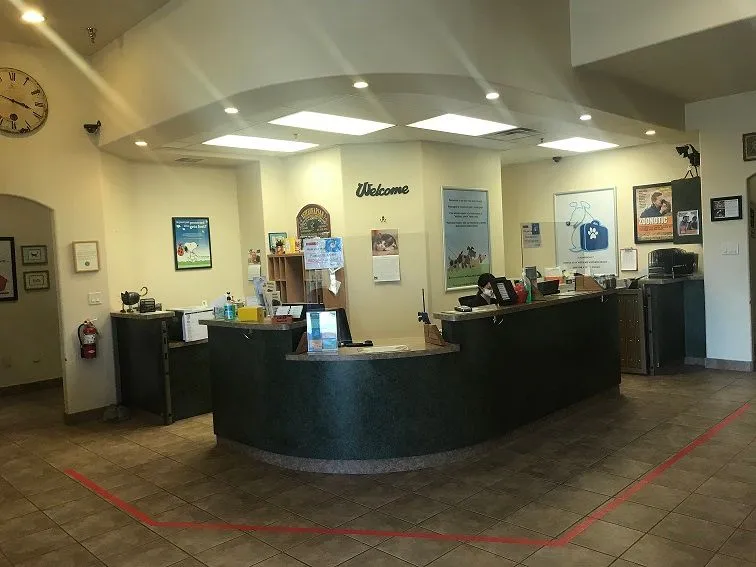 ---
Exam Rooms

A variety of exam rooms are available to provide your pet with maximum comfort and convenience. We have designed a Large Dog Exam Room with more floor space for large dogs or families with multiple dogs. The Small Dog Exam Rooms allow your pets to be on a table for the doctor to examine more easily. The Cat and Exotic Room is located in its own hallway away from boarding or hospitalized dogs. Your feline friends will hardly even know that there are dogs on the premises.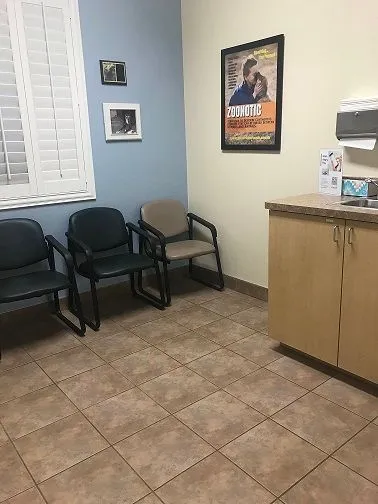 ---
Treatment
The Treatment Room is where most things happen at Siena Animal Hospital. This is also where everyone except the CSRs live during the workday. Most of our equipment, diagnostic tools, and all of our hospitalized patients are located here. The treatment room is the focal point and center of the hospital both physically as well as medically.
---
Pharmacy
At Siena Animal Hospital, we offer a full pharmacy for your convenience. We purchase from reputable distributors, store appropriately, and remove medications if expired. Although some over the counter supplements and shampoos can be purchased without an exam, most medications require a doctor's exam and authorization. If we do not carry a medication, we will either obtain the appropriate drug for your pet or write a prescription that can be filled at a regular human or compounding pharmacy. We now also offer the convenience of our own online pharmacy for your pet's medication, treats, and prescription foods. However; we hesitate to support other on-line pharmacies as they are very poorly regulated. If your pet has a continuous medication, you can call in refills at 702-258-0006, or email your request to [email protected] Most refills will be ready in 1-2 hours of receiving your request.
---
Laboratory

Siena has an in-house laboratory which is extremely useful for testing your pet for internal organ problems prior to an anesthetic procedure. In addition, the ability to run tests quickly in an emergency situation can help the doctor create a more effective treatment plan for your pet in a crisis. This work-up helps define which organ systems are affected. After these tests, further diagnostic tests may be indicated to better define the nature of the problem and offer a longer-term prognosis and treatment plan.
---
Dentistry

Siena is equipped with a dental unit and dental treatment table for performing dentistry and associated procedures. Please refer to the "Pet Medical Library" section of our Website for more information on the importance of dental care in pets.
---
Treatment Tables

We are equipped with several treatment tables to allow our doctors and technicians to work on multiple patients with ample elbow room.
---
Treatment Cages

No cold, noisy, and vibrating stainless steel cages for our hospitalized patients. We have quiet, easily disinfected, laminated 'housing' for your pet while he is with us for hospitalization.
---
Treatment Run

For larger (or multiple) patients, or even for boarders that need an extra bit of TLC, we have a large run inside our Treatment Area.
---
Surgery

The surgery room is a "clean" room with positive pressure ventilation, filtered air inflow, and minimal traffic. In order to keep the room as sterile as possible, caps, masks, and gowns are worn for all surgeries.
---
Radiology (X-Ray)

Digital radiology offers quicker, more accurate X-rays for your pet. You can even have a copy of your pet's X-rays (radiographs) on a CD to take home if you wish.
---
Isolation

This room is under negative pressure in order to contain contagious diseases. Separate air flow and cleaning procedures are utilized to minimize the spread of infectious diseases around the hospital.
---
Luxury Boarding

Dogs are boarded inside 3'x6' runs or smaller kennels, with beds and bedding (unless they may chew or eat it), and are allowed supervised play time at least 4 times daily in our clean, landscaped, completely fenced yard.
The Luxury Suite (6'x7') is more than twice the size of a regular run. It can be rented for any sized dog. The Luxury Suite is the only specific location that can be selected by the owner. All other pets are boarded in the largest space available for their size. Please fill out our Boarding Form call 702-258-0006 or email [email protected] for reservations and pricing.
Cat - Boarding cats are kept as far from barking dogs as possible and are allowed free roam in our cat room for more space and freedom. There are lots of hiding spots for them as well as sunny window ledges to see outside. Our cat boarding is located next to the reception area so your pet can be close to people for interaction if he wants.